Jack Hardy News
Last updated February 26, 2016
A Tribute to Jack Hardy with All-Star Lineup to Be Released March 11, 2016
New Mike Laureanno CD, Pushing Back Wintertime
Sheila Mac Donald Covers "The Black Hole," Dedicates New Album to Jack
Tribute Concert by Songwriters Exchange
T Shirts Available
Falcon Ridge 2011: Tribute Concert of Jack's Songs; CDs and Posters for Sale
Radio Tribute Now Available on CD
Jack's Passing
New Boxed Set and Release of First Seven Albums on Individual CDs
New Kate MacLeod CD Includes "The Inner Man"
Rye Grass CD Released
Folk Brothers CD Due in July
New Christian Bauman Novel Includes Songwriters' Meeting
New Album: Noir
Article in Autumn 2007 Sing Out!
Blog about Kerrville
"When Mary Rested on the Rock" on Compilation CD
The Tinker's Coin - Celtic Anthology
Coin of the Realm
"Bandolier" in Sing Out!
New CD: Bandolier
Christian Bauman Novel Contains Hardy References
Vigil CD Released
Song for Dave Van Ronk
Fast Folk Set
Hardy Song on New Vega Album
What Others Are Saying about Omens
"Eclipse" Covered by Steve Gillette & Cindy Mangsen
Jack Hardy Profiled in New York Times and Philadelphia Inquirer

A Tribute to Jack Hardy with All-Star Lineup to Be Released March 11, 2016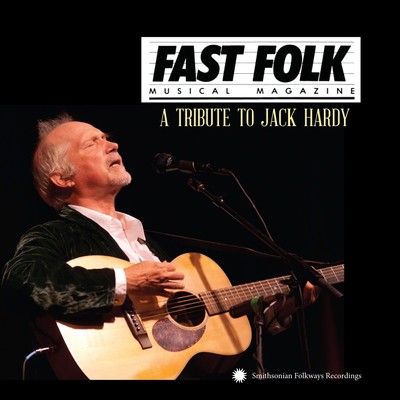 A Tribute to Jack Hardy will be released on the fifth anniversary of the esteemed singer-songwriter's death, March 11, 2016.

The late Jack Hardy, an influential folk singer-songwriter and founder of the Fast Folk record label and magazine, was a firm believer in the power of song as a form of communication. For him, folk music was more about the lyrics and the melody than the singer. "As a songwriter," he said, "I'm only as good as my latest song."

In honor of the fifth anniversary of his death, Smithsonian Folkways presents A Tribute to Jack Hardy, featuring 26 previously unreleased recordings of Hardy's songs by an illustrious group of performers, all of whom cited Hardy as a key influence and a personal friend. The album will be available in on-demand double CD and digital downloads via folkways.si.edu as well as all major digital outlets.

Listen to a two-song sneak preview featuring Suzanne Vega and Nanci Griffith: http://goo.gl/MAiYJO

Performers include album producers Mark Dann and David Massengill, joined by contemporary folk standouts Nanci Griffith, Suzanne Vega, Jonathan Byrd, Red Molly, Lucy Kaplansky, and Brian Rose. Jack Hardy himself, known as a welcoming host for weekly songwriting workshops, is also included via two unreleased tracks recorded shortly before he died.

Watch Video for "Ponderosa" from A Tribute to Jack Hardy: https://youtu.be/eVPUkcF9MVo

For the album, Dann and Massengill compiled more than 100 pages of liner notes that include Hardy's "Songwriter's Manifesto," complete lyrics, photos, and personal tributes, anecdotes, and essays from the participating singer-songwriters.
More about Jack Hardy:
Picking up the guitar as a teenager in the 1960s in Colorado, Hardy's early repertoire consisted of The Everly Brothers, The Kingston Trio, Bob Dylan, and The Beatles. But much of his writing style can be attributed to his love for literature. The poetry of William Butler Yeats especially influenced Hardy's songwriting style, which is characterized by vivid imagery and literary techniques.

After moving to Greenwich Village, New York City, to pursue a career as a singer-songwriter, Hardy created the Songwriters Exchange, where musicians shared a new song weekly. The group, and resulting concert series, attracted established performers, such as Griffith, Vega, John Gorka, and Shawn Colvin, as well as aspiring amateurs. Known both for the constructive songwriting advice and the enormous bowls of pasta he would serve up, Hardy became a sounding board, mentor, and friend for a generation of NYC folksingers. In 1982, Hardy, with the help of Dave Van Ronk and others, founded Fast Folk, a record label and music magazine that featured hundreds of singer-songwriters on 98 albums released during a 15-year run (now part of the Smithsonian Folkways collection).

While he never reached the commercial success that some of his weekly guests achieved, Hardy was a prolific songwriter and released 21 albums in nearly 30 years before he died of lung cancer in 2011 at age 63.

"Everything about writing is a process. It is a process that one must immerse oneself in to be good," said Hardy. "We have to stop getting hung up on the song itself, as an end in itself, and pursue the process."

In the liner notes, the performers repeatedly cite his valuable perspective on songwriting and give generous thanks for his passion, bravery, stubbornness, determination, and encouragement.

In addition to this tribute, the 36-track compilation Fast Folk: A Community of Singers and Songwriters is available from Smithsonian Folkways and includes songs by John Gorka, Suzanne Vega, Dave Van Ronk, and many more.

A Tribute to Jack Hardy track list:
| Track no. | Title | Artist | Length |
| --- | --- | --- | --- |
| 101 | Tree of Rhyme | David Massengill | 3:45 |
| 102 | Saint Clare | Suzanne Vega | 2:23 |
| 103 | Little Dove | Richard Shindell | 4:07 |
| 104 | Sojourner Truth (Ain't I a Woman?) | Jack Williams | 3:15 |
| 105 | Murder | Christine Lavin | 5:55 |
| 106 | You Only Leave Your Heart Once | Richard Julian | 4:30 |
| 107 | Prisoner | Red Molly | 4:33 |
| 108 | The Last of the O'Neills | Nels Andrews | 3:38 |
| 109 | Rye Grass | Paul Sachs | 4:41 |
| 110 | Houston Street | Frank Christian | 4:36 |
| 111 | Potter's Field | Erik Frandsen | 2:28 |
| 112 | Autumn | Jonathan Byrd | 3:08 |
| 113 | Gossamer Thread | Jack Hardy | 3:19 |
| 201 | Resolution | Rod MacDonald | 3:56 |
| 202 | Forget-Me-Not | Lucy Kaplansky | 3:49 |
| 203 | Dublin Farewell | Anthony da Costa | 3:46 |
| 204 | The Tailor | Terre Roche | 5:25 |
| 205 | Down Where the Rabbits Run | John Gorka | 3:40 |
| 206 | I Ought to Know | Ronny Cox | 3:34 |
| 207 | Porto Limon | Brian Rose | 4:34 |
| 208 | White Shoes | Andrew Rose Gregory | 3:47 |
| 209 | Go Tell the Savior | Diana Jones | 4:27 |
| 210 | The Inner Man | Frank Tedesso | 4:13 |
| 211 | Before You Sing (Instrumental Version) | Kate MacLeod | 1:08 |
| 212 | Fare Thee Well | Nanci Griffith | 4:03 |
| 213 | Ponderosa | Jack Hardy | 4:17 |
Smithsonian Folkways' Press release
New Mike Laureanno CD, Pushing Back Wintertime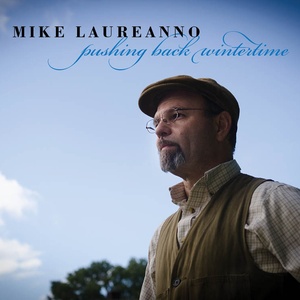 Mike Laureanno, a singer/songwriter who also played bass and sang high harmony with Jack Hardy for years, has just released a new CD, Pushing Back Wintertime. Among the twelve songs is one written for Jack, "Let Go." The CD is available through CD Baby.

Sheila Mac Donald Covers "The Black Hole," Dedicates New Album to Jack
Sheila Mac Donald's new CD, "Half Light," includes a cover of Jack's song, "The Black Hole." She has also dedicated the album to Jack's memory. It may be purchased through CD Baby.

Tribute Concert by Songwriters Exchange
Members of the Songwriters Exchange will celebrate the life and legacy of Jack Hardy in a tribute concert at the Christopher Street Coffeehouse on February 2, 2012. The coffeehouse takes place at St. John's Evangelical Lutheran Church on Christopher Street in Greenwich Village, New York City. Refer to the Christopher Street Coffeehouse calendar page for more information.

T Shirts Available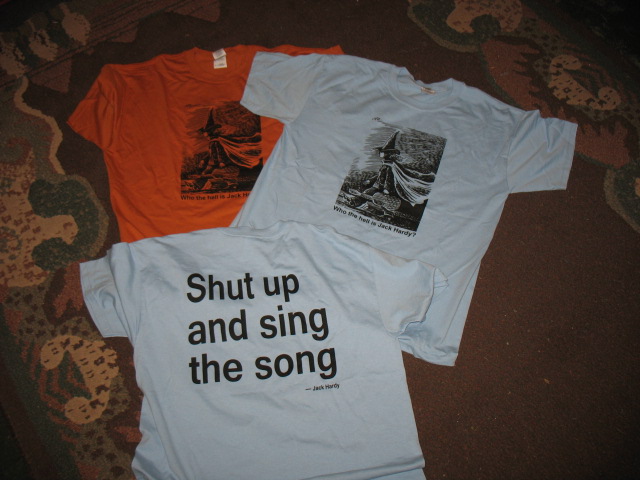 T Shirts, which sold briskly at the 2011 Falcon Ridge Folk Festival, are available while supplies last. The cost is $15 each, including shipping. They may be ordered by sending a check for the total amount made out to MORGAN HARDY and mailed c/o 763 Briscoe Road, Swan Lake, New York 12783. SPECIFY SIZE(S) DESIRED. The colors are jade (Medium), pale blue (Large), and "Texas orange" (Extra Large). For more information, e-mail Angela Page at: folkplus

gmail.com

Falcon Ridge 2011: Tribute Concert of Jack's Songs; CDs and Posters for Sale
Jack's CDs will be offered for sale at a booth at the Falcon Ridge Folk Festival, July 22 through 24, 2011, in Hillsdale, New York. Some of his recordings have been reduced to limited numbers, so those interested in acquiring them on fixed media (CDs with printed inserts and lyrics, etc.), are advised to buy them now.
Posters from Fast Folk shows betweens 1985 and 1999 will also be available at the Jack Hardy Booth. Some of the posters are signed by all of the performers. Use the link at the beginning of this paragraph for details and images of the available posters.
At 5:00 p.m. on Saturday, July 23, 2011, various artists will pay tribute to Jack at the Falcon Ridge Folk Festival. John Gorka, Lucy Kaplansky, Dan Navarro, Mark Dann, Terry Kitchen, Radoslav Lorkovic, Eric Lee, and others will offer a special concert of Jack Hardy's songs.

Radio Tribute Now Available on CD
Angela Page's radio special on Jack Hardy, which was first broadcast on March 26, 2011, on WJFF-FM, is now available on CD. Below is an outline of the special program, with voices from his life and 15 partial or total songs from his huge repertoire.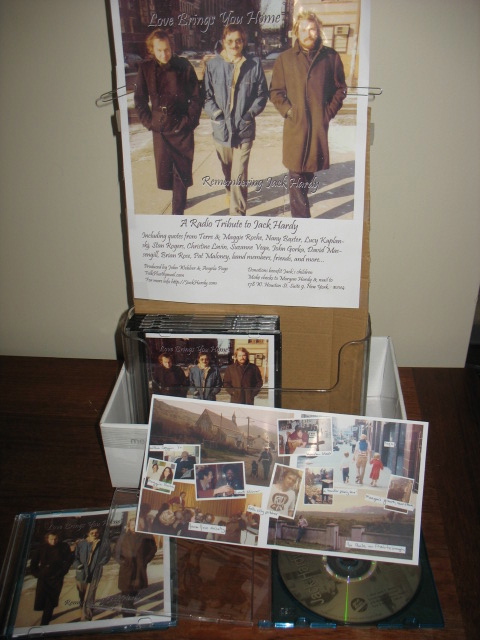 Copies of the 59-minute special Love Brings You Home: Remembering Jack Hardy are available for a donation to Jack's children. Checks may be made out to MORGAN HARDY [Jack's daughter] and mailed c/o 763 Briscoe Road, Swan Lake, New York 12783. [The amount is at the discretion of the donor. The webmaster suggests keeping in mind the costs of the production and shipping, as well as the fact the some of the content of this CD and the accompanying photos are unavailable elsewhere.] For more information, e-mail Angela Page at: folkplus

gmail.com
Playlist of Love Brings You Home: Remembering Jack Hardy
Jack Hardy - "My name is Jack Hardy and these are a few of my tunes" -
  [intro picking of "Pondersa" fades out]

Terre Roche on meeting Jack in Pittsburgh in 1974

Jack - The Roche sisters invited him to the New York music scene
Jack Hardy - [Portion] "Night on the Town"
Maggie Roche says that they traveled together out west
  and he came to live in New York

Jack Hardy - "Tree of Rhyme" – Landmark -
  Big Pink Music [Korean Box Set]
Jack says he was born in Indiana, and grew up in 
  Colorodo and Connecticut...

Ewart Skinner – Assistant editor to Jack U. of 
  Hartford's student paper
"The Liberated Press" where Jack was arrested for
  libelling Nixon. Jack was community.

Jack Hardy - "I Ought to Know" - Omens -
  1 800 Prime CD

Nancy Baxter - met Jack at 19 years old, remembers
  him at Folk City with his cape, knowledgable
  and leading the post-Dylan scene

Lucy Kaplansky - "an iconic figure in the 70's and 80's
  folk boom," "there wouldn't have been a scene without Jack"

Jack Hardy - "All Saints' Eve" - The Nameless One -
  1 800 Prime CD

Frank Mazzetti - rules on the songwriter's circle

Stan Rogers – Stan mentions the songwriter circle while on WFDU

Christine Lavin - thankful to Dave Van Ronk for introducing
  her to Jack, who showed her about working together as a community.

Angela - "1979 we went to Ireland and tracked down everything
  we could about James Clarence Mangan with whom he was fascinated."

Jack Hardy - "An Bael Bacht" - Songs of Jack Hardy, Vol. 1:
  Of the White Goddess - BCN Records

Jay Rosen - "Jack always told me he'd be more famous 
  after he was dead"

Tom Duval- "saw many crowd Jack, wanting something from him,"
  Tom promised himself he wouldn't ask - he didn't ask
  for any of the riches Jack eventually offered to him

Jack Hardy - "The Changing Wind" - The Hunter - Great Divide

Suzanne Vega - "Jack had a gift for melody"

Roy Champagne - "Fan of Everly Brothers, and singing
  with his brothers made that evident from the beginning"

Jack and Gordon Hardy JR. - [Portion] "End of the Road" -
  Early and Rare - 1 800 Prime CD

Jack Hardy with Jeff and Chris Hardy - "Ruins" - Live tape Roy C.

Tim Robinson - "there's no one to compare him to," "poetry
  and word sounds first - meaning comes later"

Roy Champagne - "he hated the music business"

Jack - "if Beethoven were alive today, he'd be writing jingles"

John Gorka - "Jack was the first person I met who wrote on
  a schedule"

Jack Hardy - "Blackberry Pie" - Tinker's Coin - 
  Great Divide Records 

Mark Dann - owes being a recording engineer to Jack, "he gave me the
  visibility on the scene taping Fast Folk"

Hugh Odoherty - coast guard rescue pilot, tweeked "Ship of Fools"
  song to a verse of ship of feuls

Jack introduces Mike Laureanno

Mike Laureanno - "we need to remember jack is a formadable artist
  which gets eclipsed as him as the force behind Fast Folk";
  he should be covered by other artists

Jack Hardy - [portion] "Ain't I a Woman" - solo demo not released

Jack Hardy - [portion] "Ain't I a Woman" - live from 2010 
  New Bedford festival with Mike Laureanno and Morgan Hardy

Jack introduces of Kate MacLeod

Kate MacLeod - georgeous metaphor for humanity's depth

David Massengill - "the songwriter I most admire in this world"

Jack Hardy - [portion of ] "White Shoes" - White Shoes -
  1 800 Prime CD

Anthony DaCosta - "Jack called me grasshopper, 
  I looked up to him as a mentor"
  
Jack Hardy - [portion] "Willie Goggin's Hat" - Tinker's Coin

Abbie Gardner - "any songs I write from now on will be
  without his guidance and inspiration," 
  "'don't forget to write' so that's what I'm going to try to do"

Angela - He worked from Advent to Easter '82 writing 13 songs for
  the Jan us church service, with Reverend Stone

Jane Orcutt - speaks on Peacemaker Players who performed Jack's
  plays in churches, county college and local theatres

Jack Hardy - "The Knights Dream" - Collected Works Of Jack Hardy

Angela - opera singer from viena dedicates her night show to Jack
  as his was the first song she ever sang on a stage

Brian Rose - he was an Irish mystic, and a cowboy rustic, but
  living with artists in NYC, his career leveled off, 
  but writing never stop growing

Roy Champagne - "'Rio Bravo' was his favorite western, 
  he would have liked to have been a singing cowboy"

Jack Hardy - "Go Tell the Savior" - Early and Rare -
  1 800 Prime CD

Angela - Jack toured extensively overseas for almost 40 years,
  where he was incredibly popular

Jack Hardy - [portion] "Dover To Dunkirk" - The Nameless One -
  1 800 Prime CD

Kirk Siee [bass player for tour last fall] - before he knew it
  he was on a plane with two Hardys, borrowed bass
  and rented station wagon

Angela - Jack knew over a dozen songs in gaelic, he'd memorize a
  verse at a time on long walks with his dog Brogabhan

Jack singing in Irish while driving with family to yearly
  rental in Ireland

Angela - his last trip overseas, he performed for the last time

Pat Maloney - "Jack had no idea how sick he was, but he never 
  stopped, nobody knew how bad he was feeling"

Jack Hardy - "Ponderosa" - Last Performed Song in public,
  taped on 1/21/11 by Pat Maloney, McCarthy's Bar in
  Dingle, County Kerry, Ireland

Slan abhaile, Jack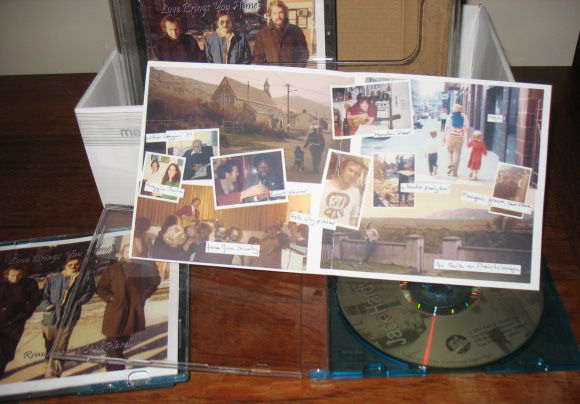 Jack's Passing
Jack Hardy passed away on March 11, 2011, after a short battle with cancer. We are all mourning his loss and send our most heartfelt condolences to his family and others close to him.
For the time being, links to obituaries and tributes will appear on the main page.
Jack's final performance was January 21, 2011, at McCarthy's Bar in Dingle, Ireland.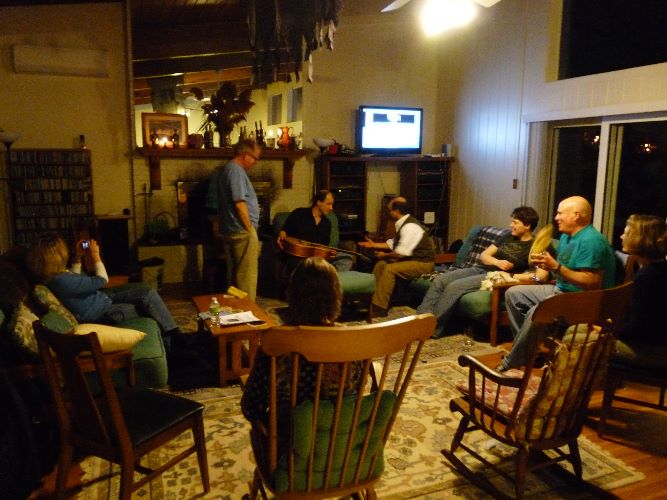 Some of Jack's friends gathered on March 18, 2011, to share songs and stories and to honor his memory.
New Boxed Set and Release of First Seven Albums on Individual CDs
Big Pink Music in South Korea has issued Jack's first seven albums on CD. They are packaged invididually and also as a boxed set containing all seven CDs, plus a bonus CD of ten live performances from the late 1970s and early 1980s (most of songs not previously released).
They are being sold by multiple parties on eBay, Amazon.com, and perhaps other sites. The prices are generally $19.99 for individual CDs and $149.99 for the boxed set.
This is a means to get single CD copies of these albums, which otherwise have only been available in the Collected Works sets. Jack's first, self-titled album is available for the first time on CD exactly as it was on vinyl. (The first CD in the first Collected Works volumes contains some of the same songs and some different ones.)
These issues were authorized by Jack. Lyrics are included on an insert sheet, and the boxed set contains a booklet with photos and newly written commentary by Jack about the albums. The sound quality is exceptional.
The long-term availability of these items is uncertain. Reportedly the eight-CD boxed set is limited to 100 copies.

New Kate MacLeod CD Includes "The Inner Man"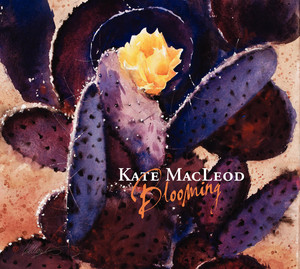 Kate MacLeod has recorded a cover of Jack's song, "The Inner Man," on her new CD. Her new recording, Blooming, was produced by Tim O'Brien and features Nashville-based musicians Darrell Scott, Byron House, and Kenny Malone. It is available through Waterbug Records at www.waterbug.com and digitally through CD Baby. For more information, see Kate's website, www.katemacleod.com.
Kate is a well-respected fiddle player who has performed with Jack at concerts over the years and contributed to several of his albums, including Omens and Noir.

Rye Grass CD Released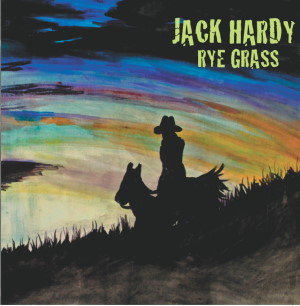 Jack recorded a new album, Rye Grass, in late June of 2009. It will be available for sales at shows and through CD Baby. Contributing musicians include Mike Laureanno on bass, Abbie Gardner and Laurie MacAllister from Red Molly on dobro and banjo and harmonies, and Morgan and Miranda Hardy on fiddle and harmonies.
The songs are:
Soundtrack
Crime of the Century
Rye Grass
Tobacco Shed
If I Were to Lay Me Down
Ask Questions
Rainer
Prisoner
Kansas
Now and Then
Little Dove
Folk Brothers CD Due in July
The first album by The Folk Brothers—also known as Jack Hardy and David Massengill—has been recorded and will be out in July. Lyrics and other information will be available at folkbrothers.com.

New Christian Bauman Novel Includes Songwriters' Meeting
Christian Bauman's third novel, In Hoboken, includes descriptions of a songwriters' meeting group and a character with a vague resemblance to Jack Hardy. It is published by Melville House Publishing.

New Album: Noir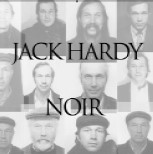 Jack's new album, Noir has just come out.
On this CD Jack is accompanied by musicians who have played with him frequently and the performances are outstanding.
| | |
| --- | --- |
| It is for sale at shows and from CD Baby: | |
MP3 files of the songs may be purchased and downloaded at DigStation.
"Liner Notes" for Noir - The songs and the musicians

Article in Autumn 2007 Sing Out!
Jack has a short article on the Sean Nos Festival in Ireland in the Autumn 2007 issue of Sing Out!.

Blog about Kerrville
Reg Meuross's blog includes notes on the four days he spent with Jack Hardy and others at this year's (June 2007) Kerrville festival.

"When Mary Rested on the Rock" on Compilation CD
Jack's song "When Mary Rested on the Rock" is available only on a compilation CD of Christmas-related songs called No Two Flakes the Same. The CD is put out by Penny for the Guy Records. It may be ordered by sending $8.00, which includes postage, to:

Fran Powers
311 Tompkins Ave.
Staten Island, New York 10304

The Tinker's Coin - Celtic Anthology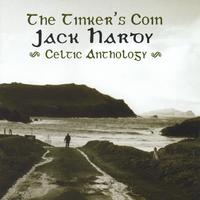 A collection of Jack's Celtic songs is now available on CD.
Coin of the Realm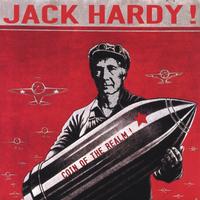 Jack has a recorded a new album, Coin of the Realm: Songs for the New American Century. It is available at his shows or by sending a check or money order for $17 ($15 plus $2 shipping) payable to Jack Hardy to:
Jack Hardy / Great Divide Records
178 W. Houston Street, Suite 9
New York, New York 10014
| | |
| --- | --- |
| ...or order it on-line from CD Baby: | |
Sing Out! magazine features "Bandolier" as one of the songs in their Winter 2004 issue.

Christian Bauman's Review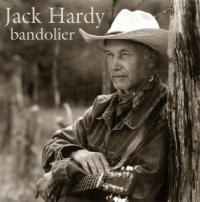 Bandolier is Jack's new album of "western country" songs. (The title song is set in the Mexican Revolution.) The CD was released November 16, 2002, and may be ordered by sending a check or money order for $17 ($15 plus $2 shipping) payable to Jack Hardy to:
Jack Hardy / Great Divide Records
178 W. Houston Street, Suite 9
New York, New York 10014
| | |
| --- | --- |
| ...or order it on-line from CD Baby: | |
The CD will also be available through amazon.com later in December.
The musicians accompanying Jack are Tom Duval (acoustic guitar and harmony vocals), Jenny Hersch (upright bass), Kate MacLeod (fiddle), Steve Sadler (dobro and mandolin), and Mike Laureanno (harmony vocals).
The songs are:
The Moon Is Full
Ponderosa
Faded Old Rose
Texas Moon
All the Way to Mexico
Autumn
Andale
Kitty in the Shoeshine Box
Bandolier
Dead Man's Hand
Whom Do You Love?
Rodeo
The Roan
Everything's Bigger in Texas
Singer's Lament
Christian Bauman's upcoming novel, The Ice Beneath You, contains two references to Jack Hardy. One is in the novel itself, about three-quarters of the way in. The other is in an interview with the author at the back of the book, in which Jack is cited as a mentor/teacher/influence.
The Ice Beneath You is being published by Simon & Schuster, with a release date of October 2, 2002.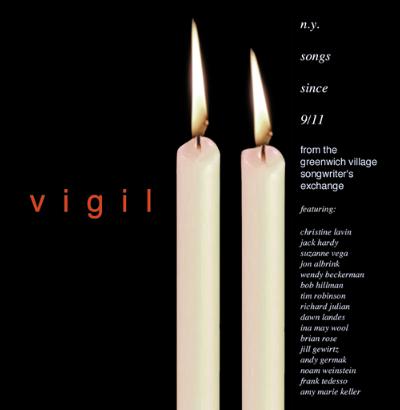 Vigil, a CD by Suzanne Vega and The Greenwich Village Songwriter's Exchange for the benefit of 9/11 victims, was released officially on April 30, 2002. Contributing performers are Suzanne Vega, Christine Lavin, Jack Hardy, Tim Robinson, Wendy Beckerman, Bob Hillman, Jon Albrink, Ina May Wool, Dawn Landes, Brian Rose, Richard Julian, Jill Gerwitz, Amy Marie Keller, Andy Germank, Noam, Weinstein and Richard Meyer.
The album may be ordered now from Amazon.com.
Profits from sales of the album will go to the Windows of Hope Family Relief Fund.
The New York Times ran an article on the project on April 21st.

Jack has written a song for his friend Dave Van Ronk, who died February 10th, 2002. Dave was an early supporter of Fast Folk, contributing a song on the very first album.
Jack performed the song during an interview with Otto Bost of WDIY-FM that was recorded on February 12th.
Listen to Jack's introduction and the song:
introduction to the song (mp3 format, 128Kbps stereo, 1074KB)
"Song for Dave Van Ronk" (mp3 format, 128Kbps stereo, 2013KB)
introduction to the song (mp3 format, 256Kbps stereo, 2150KB)
"Song for Dave Van Ronk" (mp3 format, 256Kbps stereo, 4030KB)
Thanks to Otto Bost and WDIY (Allentown, Pennsylvania) for the recording.
Smithsonian Folkways will release a two-CD set of songs from the original Fast Folk albums, including Jack's "Forget-Me-Not" from volume 8, number 6.
In addition to the compilation which will receive wide-spread distribution, all of the original albums may now be ordered in digital format as "custom CDs" from Smithsonian Folkways.
Billboard's article on the Fast Folk set
Suzanne Vega's new album, Songs in Red and Gray, includes her version of Jack's previously unreleased song "St. Clare."
The album was released on September 24, 2001.
Some comments on Suzanne's rendition of "St. Clare":
"'St. Clare' was beautiful. a really nice song."

"St Clare: Impossible not to listen! A bomb could blow up under my feet, I wouldn't notice until St Clare was through. I don't know what it is yet about this song though."

"And 'ST. CLARE' [...] To me, it's a perfect closing of the album. It makes me feel."

"I adore St. Clare. It paints a very sweet, very tender, image for me, that leaves me hopeful, hopeful for more, hope for mankind, hope for safety, hope, something that is needed at the end of a relationship, a disaster, even a CD. A perfect ending."

"And the Jack Hardy song, which is beautiful." (Observer newspaper...in the UK)

"'St-Clare' is absolutely fabulous. It is like the promise of a spring where everything can happen."

"'St. Clare,' while it is short, is an elegant benediction to all the preceeding turmoil."

"I was wondering if the lyrics to St. Clare are somehow related to Leonard Cohen's novel 'Beautiful Losers'. One of the protagonists is an Iroquois saint, Catherine Tekakwitha, and parts of the song fit perfectly to the plot of the novel. In it, St. Catherine serves as the projective plane for all (men's) man's desire. Here's the first paragraph of the novel from 1966: 'Catherine Tekakwitha, who are you? Are you (1656-1680)? Is that enough? Are you the Iroquois Virgin? Are you the Lily of the Shores of the Mohawk River? Can I love you in my own way? I am an old scholar, better-looking now than when I was young. That's what sitting on your ass does to your face. I've come after you, Catherine Tekakwitha. I want to know what goes on under that rosy blanket. Do I have any right? I fell in love with a religious picture of you. You were standing among birch trees, my favorite trees. God knows how far up your moccasins were laced. There was a river behind you, no doubt the Mohawk River. Two birds in the left foreground would be delighted if you tickled their white throats or even if you used them as an example of something or other in a parable.'"

"Fall is settling in, winter is therefore soon to come, but St Clare reminds us that spring will come again in it's time. I think it's a very beautiful ending for an album with so much sadness and conflict. It lets you off the hook by insuring that all wounds will heal."

"St. Clare is great, touching and so sweet [...] I was surprised it was the end of the album already, but after better thinking I find it a perfect ending song, it leaves me with the taste of the rest of the album, and with thoughts of beauty and longing and some kind of peace."

"reactions during first hearing: [...] I do love St. Clare, however.

"reactions during second hearing: But St. Clare is my favorite song as of now.

"Suzanne knows how much I appreciate her work (I hope), but Jack Hardy does not. Thank you for a lovely song, Jack... did you have Suzanne in mind when you wrote this song? because I can't think of someone else who could sing it so beautifully."


"St.Clare is still one song from 'Songs' which I listen repeat 1. One day I have listened it for half an hour! Who said this song is too short?"

"But 'St. Clare' isn't for me 'healing energy'. Just opposite. My mind becomes more and more unquiet because of this song.  When Penitent seems to refer to path 'to', St.Clare seems to refer to path 'from'. The first one brings me sweet memories from my teenages. The second one worries me. Does she (St.Clare or God) really be there that time when suffering brings my love back for her (God)?"

See below for more information on the album.

"Eclipse," on Jack's most recent album Omens, will be covered by Steve Gillette & Cindy Mangsen on their forthcoming CD A Sense of Place on the Redwing Music label. The official release date is February 27, 2001.

Jack Hardy is profiled in recent articles in the New York Times (January 4, 1999) and Sunday Philadelphia Inquirer (October 25, 1998).

New York Times Article
Philadelphia Inquirer Article